CAMP TAMARACK
HIGH SIERRA SUMMER CAMP
2023 Camp Dates: Saturday, July 1 - Saturday, July 15, 2023
Camp Tamarack is currently full for 2023.
Please call 707-668-1601 to be added to the waitlist.
Camp Tamarack has been offering the Waldorf Community a quality wilderness experience for children 9-15 years old since 1971. Camp Tamarack is surrounded by granite peaks and tall pine trees. Children experience the outdoors by swimming in nearby lakes and streams, and hiking to stunning sites while forming life-long friendships.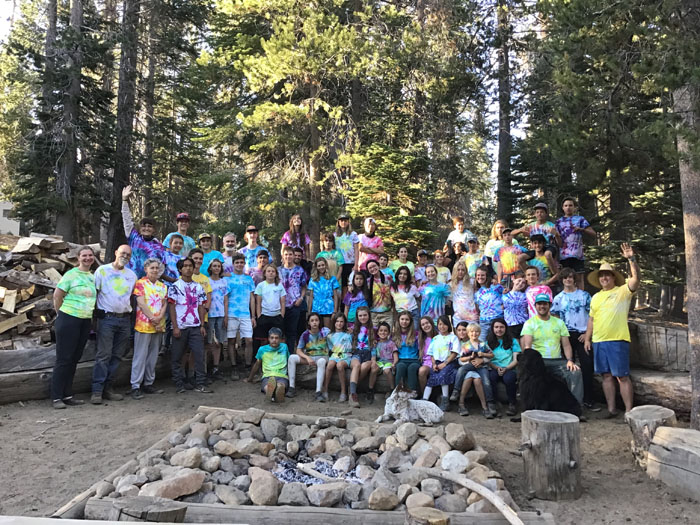 With a healthy rhythm of the day, we cultivate a wholesome and joyful community. Morning and evening gatherings greet and conclude each day with story and song. During the day, children are involved in group projects and activities under the guidance of their counselors. Activities include: arts and crafts, drama, horseback riding, archery, games, dancing, hiking, fishing, swimming, canoeing, overnight camp-outs and campfires.
The camp is sponsored by The Christian Community. On Sunday mornings we offer a non-denominational Sunday Service for children, and then join together in the afternoon for all-camp skits and games. Acceptance is the same for everyone without regard to race, national origin, religion, gender, or handicap.
This year our camp will be directed by Rev. Rafal Nowak from Los Angeles 916-912-2497 or ranovak@pm.me and Rev. Michael Latham from San Francisco
917-721-1282 or mclatham@gmail.com along with Hans Walser from Waldorf School of the Peninsula 650-995-3414 or hanswdeuce@yahoo.com. Our camp doctor will again be
Dr. Jennifer Shmitt from Sebastopol 510-965-7576 or jenniferannschmitt@yahoo.com who will also be managing our staffing.